Dreamland Dispatch #2 - Paper and Pressed Wood Homes
---
Ideas on pursuing our individual dreams, not the dreams of others. Learning to hear our inner voice to guide us toward them while filtering out the noise of modern society's dream pushers.
---
Hi,
I wrote the first Dreamland Dispatch in the last issue. (I missed a week due to the rigors of Dreamland travel…😊) This is the second Dreamland Dispatch. It comes from a bike ride through the Philadelphia suburbs.
I passed yet another new Toll Brothers development. If you've spent any time at all in the US version of Dreamland, I'm sure you've seen these developments. They're all over the place.
Toll Brothers pushes the dream hard. They're big time dream pushers. Selling dream houses is how they earn money.
This development was like all the others. It's a semi-flat land parcel, stripped of any natural "irregularities". Half-built homes stand on the side of unpaved, gently curving, yet perfectly laid-out roads, as only could be done when starting from scratch.
There's a sales office welcoming "new home owners" in "reserved" parking spots. The development's advertising sign looks like a real-world website, papered with offers of "quick move-ins" and "free finished basements", all offered "for a limited time".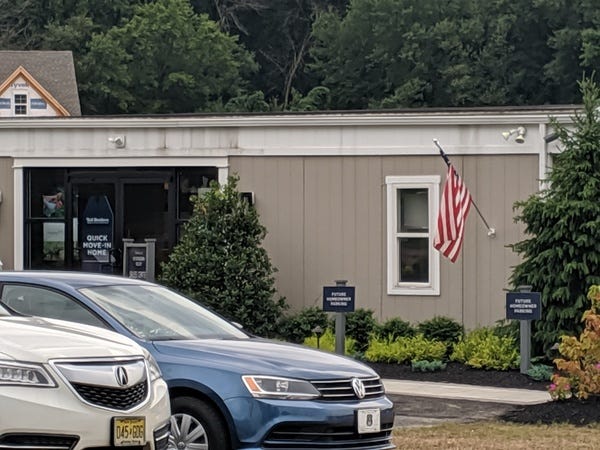 What really caught my eye this time were the building materials. These homes are pressed wood structures, covered with paper liners. This type of construction is the suburban version of what I see at home in Brooklyn.
In Brooklyn, new apartment buildings are built with aluminum frames. The frames get covered in drywall, as thin as regulations permit. In both the urban and suburban scenarios, there are almost no natural materials involved.
Solid hard wood is nowhere to be seen. Any stone isn't really stone, merely thin stone veneers.
Is this what we trade our happiness for? Paper and pressed wood homes?
It feels like summer's winding down. My partner's school started today and our son starts in a couple weeks. I'm feeling excited to get back into a more consistent rhythm as the season changes to fall.
I'm also aware of this desire for things to be different than they are right now, i.e. by having more consistency. I'm working hard to try and be with things as they are, rather than wish they were different. I fully expect to be tired of "the routine" a couple weeks into it. Finding the appreciation along the way feels like an important intention to set.
This thought caused me to stop my rde this time, rather than pass by yet another one of these developments. Actually, it was probably the third or fourth I'd passed during the first 6 miles of this particular ride.
The dream pushers have tricked us into trading our true selves and happiness for paper and pressed wood homes. They cover them with a thin plastic, "maintenance free" veneer, lock us into heaps of debt and go on their way to the next development.
They leave behind a new suburban development with new home owners who wake up, walk to their car in their driveway, drive to their office parking lot and reverse the sequence, Monday through Friday.
Do they experience satisfaction pulling into their driveway? Do they convince themselves that it's all worth it when pulling into a multi-car garage and shutting it behind them, with the automatic garage door remote?
I don't own a home so I don't know. I'm not sure I want to know, despite the overwhelming pressure from a society who looks at home ownership as the indicator someone has made "responsible" decisions and as a result "arrived" and "made it". Even if they've arrived in a paper and pressed wood home, built on a pile of debt.
What do you think? Is home ownership the holy grail of Dreamland?
Photo of the Week
See more of justrollingwithit's VSCO.
Current Reading List
One of the start-up world's most in-demand executive coaches—hailed as the "CEO Whisperer"—reveals why radical self-inquiry is critical to professional success and healthy relationships in all realms of life.
Moneyland book. Read 145 reviews from the world's largest community for readers. From ruined towns on the edge of Siberia, to Bond-villain lairs in Kni…
Current Playlist
Stream JUSTICE SOUND, 1970s Reggae History, Ultimate Reggae Roots And Culture Mix. by Justice Sound from desktop or your mobile device
Stream Sacred Call of DrumBeat July 16 2019 by StanZeff from desktop or your mobile device
Stream DJ CASPA UPFRONT & PERSONAL AUGUST 19! by djcaspa from desktop or your mobile device
Stream Rough Recordings Podcast Episode033 | mixed by Dub Striker by Rough Recordings from desktop or your mobile device