My Disaster Dream Chasing Dad Scenario
---
Ideas on pursuing our individual dreams, not the dreams of others. Learning to hear our inner voice to guide us toward them while filtering out the noise of modern society's dream pushers.
---
Hi,
(Note: I wrote this yesterday morning.)
I missed last week's issue and am up at 4:30 AM to prepare for my third 100 mile Father's Day 🚴‍♀️ Ride. I didn't want to miss two issues in a row. Now's probably the only chance I'll get to write it.
Today's topic came to me as I was making tea this morning. Had I been chasing the dream when our son was born, I would have been a disaster as a dad.
As it is, I became a dad later than most. Our son was born when I was 42. I wasn't ready before that, not even close to being ready.
42 is late by The Dream's standard expectations. I also didn't (and don't) own a house. I didn't even have a set career path then. I'm not sure that I do now. These are all failures from The Dream's perspective.
I could have had those things by then. I chose the JRWI path instead.
Instead of The Dream's rewards, which would have made me miserable chasing, I feel much happier and show up as a better version of me. I'm a better and happier version of me for me, my marriage/partnership and family.
The opposite, i.e. choosing The Dream would have been a disaster. I know because I lived the Dream's destructive promise growing up.
Today, on Father's Day, I feel grateful for not repeating that cycle 🙏
How about you? Are you a dad? Is Dream chasing compatible with your dad journey?
Let me know by replying directly to this email.
Happy Father's Day to all you dads and aspiring dads out there😊
Now, off to ride 😬😉
Chris
Semi-Random Thoughts
I finished yesterday's 100-mile ride feeling pretty well. It's a Father's Day ride organized by triathlete Larry Lewis for over 20 years. Sadly, Larry suffered a stroke last year.
He wasn't able to join as a result. A bunch of us, including many members of the Major Taylor Iron Riders, decided to ride in his honor and boost his spirits.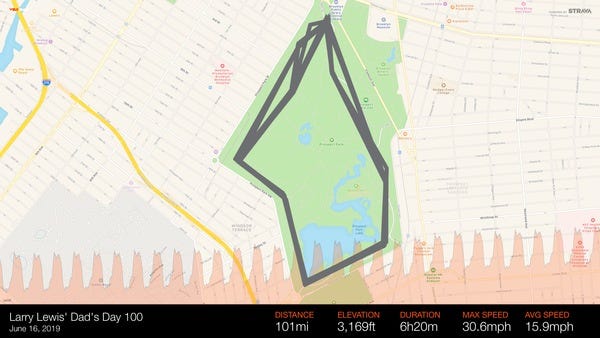 Photo of the Week
See more of justrollingwithit's VSCO.
Current Reading List
The Abundance of Less has 133 ratings and 29 reviews.
Moneyland book. Read 63 reviews from the world's largest community for readers. From ruined towns on the edge of Siberia, to Bond-villain lairs in Knig…
Current Playlist
Stream Chez Damier - Back to Basics Mix by ralphlawson from desktop or your mobile device.
Stream Live Set @ Murter Croatia by Osunlade from desktop or your mobile device.
Stream Urban Night Grooves 123 - Guestmix by True2life by S.W. (aka Rhodes54) from desktop or your mobile device.
Stream RhythmCast 070 - Heat Alliance (124 Recordings / Closer To Truth) by Rhythm from desktop or your mobile device.